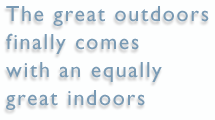 Autumn is here, with its spectacular sunsets, vast empty beaches, calm streets. Some days warm and golden, some with wind and rain.
Take a daytrip down to the giant redwoods, or up to Shore Acres Park...all within a gorgeous hour's drive. Golf. Shop Bandon Old Town. A birding expedition. Or just stay in town, visit eight art galleries, a working lighthouse, a dozen hiking trails and an uncrowded beach to hunt for agates.
Start here. Central to the spectacular south Oregon coast, WildSpring is a small, eco-friendly resort in Port Orford, 60 miles north of California. Private and secluded, on five acres of a lovely residential forest and a zero carbon footprint, it offers comfortable luxury in a naturally beautiful environment.
You'll feel like you're visiting a private estate rather than a hotel.
Stay in cozy, elegant cabin suites filled with art and antiques, in a quiet forest of 100-ft trees. Relax in the Guest Hall with a floor-to-ceiling ocean panorama. Help yourself to refreshments at any time (including chocolates!) and play a game or work on an old-fashioned jigsaw puzzle.
Sleep in a peaceful forest where the loudest sound you hear all night is an owl. Enjoy a breakfast buffet overlooking the ocean and look for whales and fishing boats. At night, float in our open-air slate spa, listen to the surf and watch the Milky Way.
You could enjoy an incabin massage or just sit on the deck, catch up on your reading and feel the ocean pounding the shore. And you think... maybe I'll just hang around here with the deer.
Think of it as nature with four stars.


| | |
| --- | --- |
| | We won the 2013 Sustainable Tourism Leadership Award at the Governor's Conference April 27, 2014 (woo hoo!) |

Click here for a video about WildSpring



• Five elegant cabin suites
• Open-air slate jetted hot tub overlooking the ocean
• Guest Hall with floor-to-ceiling ocean views
and modern, fully equipped kitchen
• A (really good!) free breakfast buffet
• High-speed WiFi network - free
• Flat-panel TV/DVD (movies only - with a free library
of almost 600 DVDs), CD/iPod stereo and
refrigerator in every cabin
• Fine Oregon wines by the bottle
• Walking labyrinth
• Plush spa robes, natural bodycare products
• Incabin massage or facial (with enough notice)
• Guest bikes, binoculars and hiking guides
• EV-Charging Post, no charge
• Guided hiking tours by author Cathy Boden
• Help yourself to beverages, juices,
fruit, popcorn and chocolates (!) at any time
• Check out our new gift collections at Etsy

...and click here for some cool things to do while visiting

And check out a beautiful new video about Port Orford