Raintree, cabin 2, is named after the legendary tree from the book, Raintree County, where it is said Johnny Appleseed planted it from a single, exotic seed. Legend has it that those who find the Raintree discover the realization of all dreams.
Raintree gets more light than any of the cabins and feels light and airy inside, with mid-tones woods, a soft earth palette and a casual elegance.
Approximately 360 sf, with a separate bedroom and livingroom, which can be separated by sliding doors. It has a top-of-the-line pillow-top Simmons queen-sized bed, and two Lane Snugglers - plush loveseats that unfold to become twin beds, with a foam topper on the mattress. It sleeps four. It has a small refrigerator (stocked with a special WildSpring Nalgene water bottle), an LED TV/DVD combo (movies only - with a free library of over 650 DVDs in the Guest Hall) and a Sony CD/iPod stereo.
Read comments from guests in Raintree.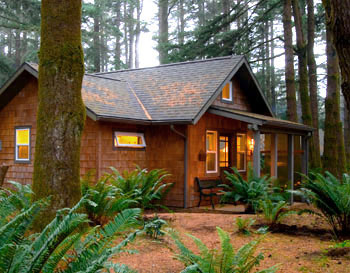 Click for more views of Raintree...