WildSpring offers a naturally beautiful, parklike environment where nature is encouraged to express itself with little artifice.
On a bluff overlooking the ocean, we're on five acres in a secluded second-growth forest of 100-ft trees in a quiet residential area in the south end of Port Orford.
The five luxury cabin suites are located in the forest, all with lovely views of ferns and trees. To protect the peace and quiet, we don't let cars into the cabin area, which is a short walk behind a graceful cedar fence. The only thing you'll hear at night is maybe an owl and you're likely to wake up to deer munching outside your window.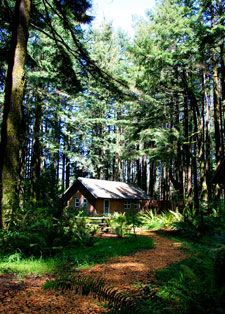 On the oceanside part of WildSpring, less than a 2-minute walk from the cabin area, you can enjoy sun, sea and the sounds of the waves (including the seals when they visit). Here, you'll find our Guest Hall and deck, sculpture garden, lounging areas, spa and Port lookout.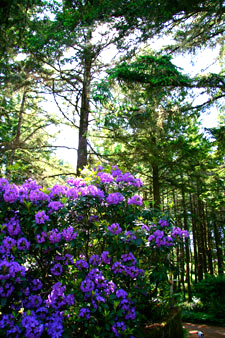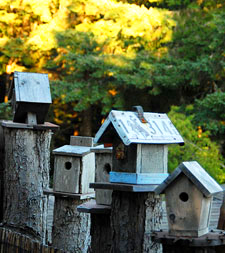 Certified Wildlife Habitat
And, we are a National Wildlife Federation certified habitat for wild animals. Visit their website for more information about this program.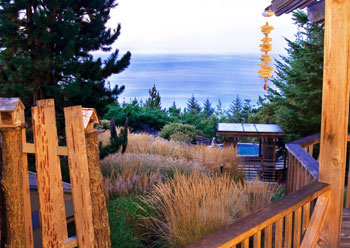 The Guest Hall overlooks the ocean with floor-to-ceiling windows and, along with the deck, tends to be the favorite guest hang-out area, a perfect place to eat, read, play games and whalewatch.
The spacious open-air hot/tub spa is the only one of its kind in the south coast, possibly the entire coast. You will enjoy the tranquility in Mary's Grove next to our walking labyrinth, and relax in the various picnic areas, meditation alcoves, and the hammocks strung throughout the forest.
You can walk Cemetery Loop from our entrance that will take you to the beach, less than half a mile away (the bluff prevents walking to the water from the oceanview part of our property).
The property itself is strangely protected from the famous Port Orford winds - imagine the surreal experience of looking out at a sea whipped by 80 mph winds while your hair is barely ruffled.
The intent at WildSpring is to remove you from the interruptions and distractions of your daily life and provide a serene place to heal, relax and renew your body and soul.



(Note: we are in a second-growth forest of 100-ft trees on the Oregon coast, which gets a lot of rain. We use no artificial nor toxic chemicals on our grounds, nor fertilizers, to ensure a clean, natural environment. If you do not enjoy the smell of what is essentially a rainforest, you would probably prefer a different place.)