Part of the pleasure of leaving your daily life behind must be allowing yourself at least a few indulgences.
We start your visit off with homemade dark chocolate truffles and fresh flowers in your cabin.
Refreshments any time
You can help yourself to refreshments in our Guest Hall kitchen at any time... compliments of WildSpring. Use the convenient insta-hot faucet to make yourself a cup of tea from the wide selection of black, green and herbal teas...or hot chocolate (with marshmallows!). Or use the easy single-cup drip Melitta cones for coffee that we ground that morning. ToGo cups are there, too. Enjoy cold juices in the refrigerator or help yourself to fresh fruit. Fix yourself some popcorn in the evening for your movie. And don't forget the dark chocolate kisses (we don't consider any vacation a true vacation without access to chocolate 24/7!).
Breakfast
In the morning, enjoy a complimentary continental breakfast from 8:30 - 10am. Sit on the deck overlooking the ocean where whale-watching is possible all year long. Help yourself to a wide selection of breads, homemade WildSpring granola and cold cereals, with Sarabeth jams, peanut butter, Nutella, whole fruits, dried fruits and nuts. We also offer a delicious blend of Batdorf & Bronson organic, fair trade coffee, roasted using 100% renewable energy and ground fresh each morning.
ToGo bag of treats
And, take a special ToGo bag for your cabin with treats to enjoy during the day - including nutrition bars, Baby Bel cheese rounds, a tangerine (seasonal) or cup of Mandarin orange slices, with a dark chocolate heart from Godiva. Let us know if you need a vegan bag when you arrive.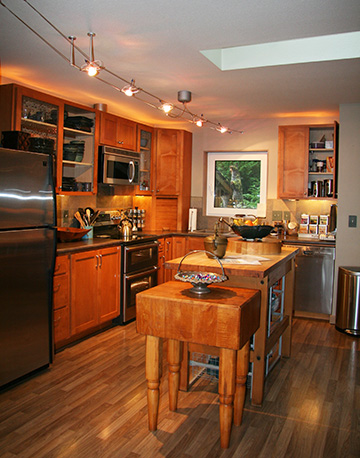 Massage
Schedule a massage in the privacy of your cabin. Enjoy the luxury of being able to sit and relax afterward without having to get dressed and go anyplace else. (NOTE: We're sorry but the one LMT in our area willing to do remote massages during Covid has moved and we have not found a replacement as yet. We're looking!)
Wine
We offer a good selection of Oregon wines at below-retail prices. Call us on the intercom before 5pm and we can bring it to your cabin; after that, we can have it waiting for you in the Guest Hall. Cost will be added to your bill. Prices, years and selection subject to change without notice. Download a pdf of our current selection.
Restaurants
There are good restaurants in Port Orford - within half a mile of us - and in Bandon & Gold Beach (half hour north and south) offering fresh seafood, steaks, creative, fine cuisine, great diner fare and arguably the best fish and chips and clam chowder on the coast. Check out our list of local restaurants and see what looks good. Most restaurants do not need reservations - the list notes which need them.
ArtForms
While you're here, check out our gift cabinet in the Guest Hall. It's filled with gifts and mementos from your visit here, from polished agates from our local beaches, to special WildSpring aprons, to our new line, ArtForms, a collection of unique, handcrafted necklaces, dreamcatchers, wall art/holiday decorations and cards. ArtForms has become so popular with our guests, we have made them available for purchase online and in select retailers.

Guest Amenities
And, enjoy our special Gilchrist & Soames WildSpring body care products - shampoo, conditioner, shower gel and bar soaps. 100% natural.
Spa Robes
Enjoy our special WildSpring spa robes, ultra plush, made of luxuriously soft 16 oz/yd long-staple cotton. Also available as gifts.