Visit a rare open-water port where boats are lowered and raised from the ocean every working day. During the season, you can crab right from the pier and buy fish from the fishermen. Explore Port Orford Heads, with the old Coast Guard Station, now a State Park , where you'll find a museum and miles of rolling hiking trails. Walk out to the headland where incredible views of surf and sea stacks will take your breath away.
There is a protected wetlands in the middle of the city, and Garrison Lake, known for it's beauty and trophy trout, offers a public boat launch, a public fishing pier and a picnic area.
Agate Beach is a treasure-hunter's dream, with prize agates, jasper, glass floats, fossils and driftwood on the strip of sand that runs between Garrison Lake and the ocean. North, you'll find miles of deserted beach with ragged cliffs, and then dunes separating last part of the that Elk River from the ocean.
Thanks to good winds and shallow, warm water, windsurfing and kitesurfing are very popular at Floras Lake. Equipment and wetsuits can be rented locally.
Don't forget Cape Blanco State Park and its lighthouse, the oldest continually operating lighthouse on the coast of Oregon. Here, you can stand on the point of land in the US that is the farthest west of the contiguous states. And visit the 105 year-old Hughes House, home of the early settlers and still in beautiful condition.
Just south of town is Humbug State Park, a popular year-round destination. Since the surrounding mountains offer protection from our famous winds and winter storms, it actually has some of the warmest weather on the Oregon coast. Windsurfing, kayaking, and scuba diving are popular along this coastline. Humbug Mountain dominates the park, with its switchback trails leading to the top at 1,756 feet. Hiking to the top is a major activity ideal for bird watching among native plants and animals. There are nearby forests, canyons and wetlands for further exploration, as well as a trout stream.


• Port of Port Orford
• Port Orford Heads
• Port Orford Lifeboat Station
• Cape Blanco State Park
• Cape Blanco Lighthouse
• Historic Hughes House
• Humbug Mountain State Park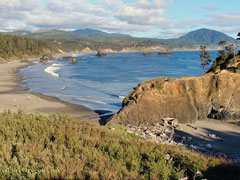 Day trips

Hiking

Guided Hikes

Fishing

Whale watching

Horseback riding

Golf

Birding

Jet boats & rafting on the Rogue

Kayaking, windsurfing
& kiteboarding