Historic Hughes House
In 1868, Patrick and Jane Hughes bought 80 acres of bottomland near the river by Cape Blanco and started what became a land and dairy empire. He added buildings to the farm as needed: most notably a creamery and dairy barn.
It wasn't until 1898 that Patrick had P.J. Lindberg build the stately Victorian home on the terrace above the river. Framed with Port Orford cedar, it is quite solidly built, and featured running water upstairs and down, gas lights in the kitchen, a newfangled built-in stove with warming oven and water heater. The bath featured an oak-rimmed tub in the bathroom, where one could admire the handsomely painted ceiling. Today, the home stands as a tribute to the family who left their mark in Oregon's pioneer history.
It is a great place to visit if you would like to see a beautiful house that has been lovingly restored to its original, Victorian elegance, and retains many original fixtures. You'll also learn about the farming, mining and housekeeping practices of that era. At Christmas, it is spectacularly decorated for visitors. Visit their website for more information.

• Port of Port Orford
• Port Orford Heads
• Port Orford Lifeboat Station
• Cape Blanco State Park
• Cape Blanco Lighthouse
• Historic Hughes House
• Humbug Mountain State Park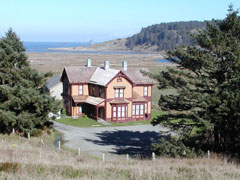 Day trips

Hiking


Guided Hikes


Wineries & wine tasting

Fishing

Whale watching

Horseback riding

Golf

Birding

Jet boats & rafting on the Rogue

Kayaking, windsurfing
& kiteboarding